Non-contact temperature measurement
ioNetworks' EZ thermal detection which combines with thermal image and true color image can be used for remote temperature detection even at night. It can be easily applied to the temperature detection of human body, control panel, fire protection and equipment, which reduces unnecessary contact, risk and measuring time. It can also be connected to the equipment such as screen, door and phone to monitor. When the temperature is abnormal, it alerts to protect your safety and health.
Advantages of our solution
EZ thermal detection
ioNetworks' EZ thermal detection, different from other infrared detection solution, integrates RGB sensor which can reduce the possibility of interference from other heat sources when measuring human body temperature. Moreover, EZ thermal detection provides the setting to customize the certain temperature to alert. ioNetworks' thermal detection module can apply to multiple fields. It not only increases management efficiency, but also alerts early to prevent hazards.

EZ Thermal detection
ioNetworks' thermal detection provides data record and warning functions which increase the efficiency of detecting the temperature of the human body and equipment, and decrease the cost of manpower, risk, and time.
Data record
Display the source of heat and the temperature of equipment and human body in real-time through the EZ Pro VMS or EZ Face Recognition system
Warning function
Set warning lights, sound, Email, SMS, pop-up window, real-time screen, and other linkage notifications when the body or equipment is detected over the set temperature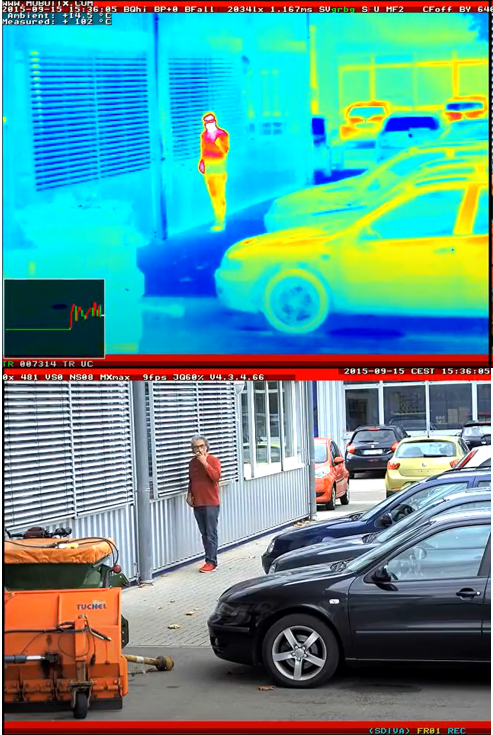 COMPETITIVE ADVANTAGES OF EZ THERMAL DETECTION
Easy installation
Plug and play USB interface, Ethernet architecture, and PoE power supply
Linkage third party platform
Can be linked with ioNetworks' EZ Pro or other third-party platforms, such as gateway clearance and alarm system
Customized function(optional)
Able to integrate with visitors, access control, face recognition attendance system, database, pipelines in the factory, or multi-zone high-temperature detection
FIELD TYPE SUITABLE FOR OUR APPLICATION